La Flor Dominicana (LFD) Cigar Event at Smoker's Choice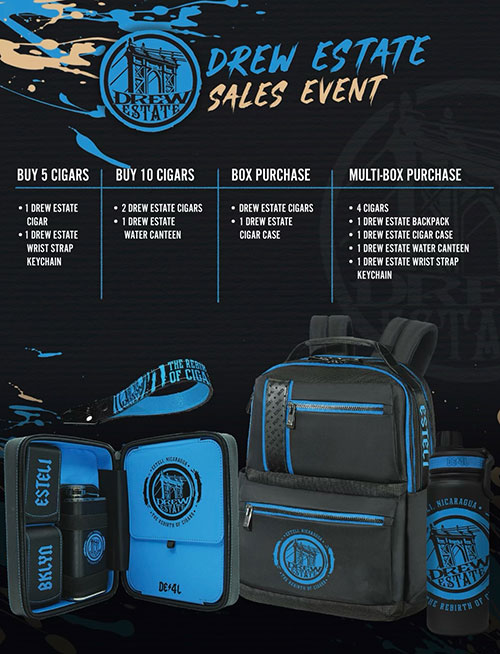 SAVE THE DATE for our Drew Estate Cigar Event at Mr. B's, Thursday, August 31 from 4p - 8p!
It's going to be another awesome cigar event on Thursday, August 31 at Mr. B's as we host Drew Estate Cigars! Ben Pearson, the rep for Drew Estate will be in the house offering some great deals for all who attend (see below). You don't want to miss out!
Save the date and bring all your friends!
EVENT DETAILS
Date: Thursday, August 31, 2023
Time: 4:00pm - 8:00pm
Location: Mr. B's
See you at Mr. B's on Thursday, August 31st and stay smoky!
Your friends at Mr. B's
About Drew Estate Cigars
Drew Estate is home to some of the most popular premium cigar blends on the planet. However, the brands story was not met with instant success, but rather with trials, tribulations, and an unyielding desire to create unique cigars that defy the guidelines of traditional cigar blending. This concept motivated both men to coin Drew Estate – "The Rebirth of Cigars".
Unlike many other brands produced by a generational family of Cuban-born cigar makers, Drew Estate was founded by two frat brothers who in 1998 daringly opened a small 16-square foot retail cigar kiosk in the World Trade Center in NYC.
Driven by their passion for the country of Nicaragua, and the top-quality tobaccos grown there, Jonathan Drew and Marvin Samel moved their cigar operation to Nicaragua where it thrives today as the largest producers of premium cigars in Nicaragua.
With such a unique and extensive catalog (including but not limited to the extremely popular ACID, Liga Privada, Undercrown, and Herrera Esteli lines), it's no surprise that Drew Estate cigars has amassed a huge portfolio of top-rated brands that are unlike any other.
Along with using conventional Nicaraguan tobaccos that are all grown on their prestigious farms throughout the country, Drew Estate imports tobaccos from Kentucky, Syria, Brazil, Turkey, Louisiana, and other leaves often found in premium pipe tobaccos for some of their unique creations.
Whether you prefer your smokes in the traditional style or on the cutting edge of blending creativity, Drew Estate has the perfect cigar for your own personal taste, lifestyle, and budget.
Events at Smoker's Choice
Drew Estate

March 30, 2023; 4pm - 8pm

LFD Cigars

August 10, 2023; 4pm - 8pm

Kristoff Cigars

September 7, 2023; 4pm - 8pm