Perdomo Cigar Event
Date: September 16, 2021
Time: 4:00pm - 8:00pm
Location: Smoker's Choice
Deals of the Day:
Come join Peter Worth, rep of Perdomo Cigars, and get some great deals including:
• Buy 3 and get 1 free!
• Buy 5 and get 2 free!
• Buy a box (20 mix and match) and get 5 free plus swag!
About Perdomo Cigars
Perdomo cigars are all wonderful creations of the famed Nick Perdomo. Perdomo cigars are handmade in Nicaragua with the highest quality tobacco. Utilizing strict quality control measures, Perdomo cigars strive to always deliver a great consistent smoke, time and time again.
Perdomo itself got its start as a cigar company in the 1900s in San Jose de las Lajas, Cuba, an agricultural city about 27 kilometers southeast of Havana. Silvio Perdomo was raised there and spent time at a number of other cigar makers before Perdomo found himself arrested for his opposition to the regime of Fidel Castro. Silvio Perdomo was tortured and kept nearly starving at a number of Cuban prisons for 12 years.
Nick Perdomo, Senior - Silvio's son - also butted heads with Fidel Castro and his concept of a socialist or "new Cuba". Nick Perdomo, Sr. was actually shot and critically wounded by pro-Castro guerillas.
Thanks to a sponsorship arranged through the Catholic Church, Nick moved to Washington, D.C., and made a life of his own with a now-famous cigar brand.
"I thank God for coming to America. It has given my family the precious opportunities of freedom they never would have had in Cuba." Nick, Sr. now points at a large American flag he has on the wall of his office, "When I raised my right hand before this beautiful flag it was one of the proudest moments of my life. Even though I'm proud of my Cuban heritage, I bleed American red, white and blue."
Today, you can own a piece of that Cuban history with every stick Perdomo's company rolls.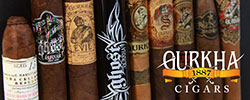 Gurkha Cigar Event
Date: September 16, 2021
Time: 4:00pm - 8:00pm
Location: Mr. B's
Deals of the Day:
Come join Gony Herrera, rep of Gurkha Cigars and get some great deals including:
• Buy 3 and get 1 free!
• Buy 5 and get 2 free!
• Buy a box (20 mix and match) and get 5 free plus swag!
About Gurkha Cigars
Steeped in legend and history, the Gurkha Cigar created more than a century ago, was reborn in 1992. The company has continuously rolled out meticulously handcrafted cigars, epitomizing all that is luxury.
In 1989, Hansotia decided to resurrect a cigar brand rich in tradition and steeped in legend and history. Gurkha Cigars were created more than a century ago and were known for their meticulously and artisanally handcrafted cigars but when Hansotia revived the brand, there was no way he could have known that the cigar industry was about to experience a boom and he would have the perfect product to attract the new cigar consumer. In realizing that there were no super-premium cigars, he created the association with an elegance that cigars have become known for. In reviving Gurkha, Hansotia created cigars that were not a necessity, but rather a luxury and an indulgence.
Today, Gurkha makes cigars for all price points and all palettes but when it began Gurkha cigars were unlike other cigars in the market and that they came in highly ornate packaging and with a steep price tag. Hansotia felt that there was a market for more luxurious and exclusive cigars for those with tastes for only the finer and more elusive products. In focusing on this segment Hansotia created the ultra-premium cigar category.
"Gurkha Has Over 105 Brands, But Is Still Considered A Boutique Cigar Manufacturer"
Gurkha has several brands that cater to every premium cigar smoker including the very elite. For many, Gurkha's are seen as a status symbol and are synonymous with sumptuousness and exclusivity. However, a beautifully handcrafted and aromatic cigar can be enjoyed by anyone and embodies the pleasure and enjoyment of all good things found in life. For centuries, cigars have been associated with enjoyment and a celebratory lifestyle. Smoking a cigar is nothing short of a memorable experience. Experience Gurkha.